ITIL is the most widely adopted approach for IT Service Management in the world. It provides a practical and realistic framework for identifying, planning, delivering and supporting IT services to the business. It is a set of practices for IT service management (ITSM) that focuses on aligning IT services with the needs of business.
ITIL describes processes, procedures, tasks, and checklists which are not organization-specific, but can be applied by an organization for establishing integration with the organization's strategy, delivering value, and maintaining a minimum level of competency. It allows the organization to establish a baseline from which it can plan, implement, and measure. It is used to demonstrate compliance and to measure improvement.
The ITIL Qualifications scheme provides a modular approach to the ITIL framework, and is comprised of a series of qualifications focused on different aspects of ITIL Best Practice, to various degrees of depth and detail.
These are the levels of qualifications within the scheme:
ITIL Foundation
ITIL Intermediate Level
ITIL Managing Across the Lifecycle
ITIL Expert Level
ITIL Master Qualification
The below framework explains the ITIL certification process.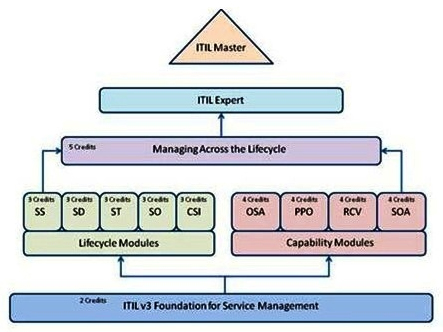 (AXELOS Limited 2011 owns the copyright for the above material)
ITIL v3 Foundation
ITIL Foundation is the most recognized skill and certification for IT professionals and employees wishing to excel in IT Service Management. The purpose of the ITIL® 2011 Foundation certificate in IT Service Management is to certify that the candidate has gained knowledge of the ITIL® terminology, structure and fundamental concepts and has understood the core principles of ITIL® practices for Service Management.
ITIL v3 2007 (updated in 2011) has the following five volumes:
Service strategy
Service design
Service transition
Service operation
Continual service improvement (CSI)
Course Contents
Candidates can expect to gain knowledge and understanding in the following topics:
Introduction to ITIL
Overview of ITIL & Basic Concepts
Service Management as a practice
Service Lifecycle
Key Principles
ITIL Model
ITIL Processes
ITIL Roles
ITIL Functions
Awareness of ITIL qualification scheme
Examination
1-hour duration
40 Multiple Choice Questions
Passing Marks @ 26 correct answers out of 40 questions (65%)
Closed book exam
No electronic devices permitted


ITIL Intermediate - Service Life Cycle / Service Capability
The intermediate level of ITIL offers a role based hands-on experience and in-depth coverage of the contents. In this course, you learn how to plan, implement and optimize the Operational Support and Analysis processes and gain the skills required to take the ITIL Intermediate Qualification. Service Life Cycle
This stream approaches ITIL from the management perspective of an organization. These modules focus on executing and implementing a complete stage of the Service Lifecycle.

In general, the modules in this stream may be more suited to those with managerial responsibility looking at the overall IT Service Management picture.

Service Capability
The Capability modules focus on the technical and hands-on approach. They are more process oriented and provide a deep understanding of the ITIL processes and functions, how they are applied and how they act together.

In general, the modules in this stream are most useful to those who take part, or want to take part, in the day-to-day practical activities described within each of the processes.

Course Contents


Introduction to ITIL Lifecycle modules (Service Strategy, Service Design, Service Transition, Service Operation, Continual Service Improvement)
Conducting Strategic Assessments
Financial Management
Service Portfolio Management
Service Design Processes
Service Catalog Management (SCM)
Service Level Management (SLM)
Change Management
Service Asset and Configuration Management
Common Service Operation Activities
Monitoring and control of IT operation
Service Operation structure
Key functions of the Service Desk
Principles of Continual Service Improvement
Implementing Continual Service Improvement
Implementation challenges and risks
Operational Support & Analysis
Planning, Protection & Optimization
Release, Control & Validation
Service Offerings & Agreements


Examination


90 -minues duration
Multiple choice, scenario-based, gradient scored questions
Passing Marks @ 28 correct answers out of 40 questions (70%)
Closed book exam
No electronic devices permitted