Franchising industry in India is growing rapidly and is currently the 2nd largest in the world. Particularly, franchising in the education domain Education has shown a growth rate of 30 to 35% annually.
Now, considering the vocational training domain, by 2017, India will require 8500 outlets to cater to the demand across industries and the volume of revenue is estimated at about INR 16,200 Crores.
The average revenue per centre is around INR 1.9 Crore. Of course, this is based on the involvement and efforts as well. But all indicators lean heavily towards the opportunity that awaits.
TWG Centre - Process of Inception
We know that by helping you achieve dominance in the market, we will continue to lead the industry. As a TWG franchise, you will be provided with an intensive training program at our headquarters, covering everything from daily operations to management and marketing strategies.
Our Partner Manager will work with you one-on-one from the moment you join the TWG team. We will continue with one week of focused training for you and your staff. Additional support is provided by Regional Managers, Corporate Sales Managers, and other corporate staff - all dedicated to your success.
Process of Inception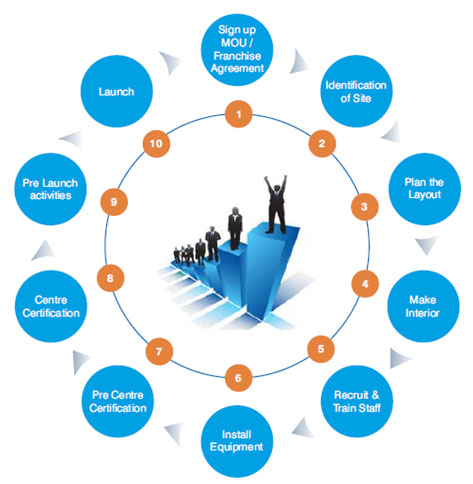 Franchisee Support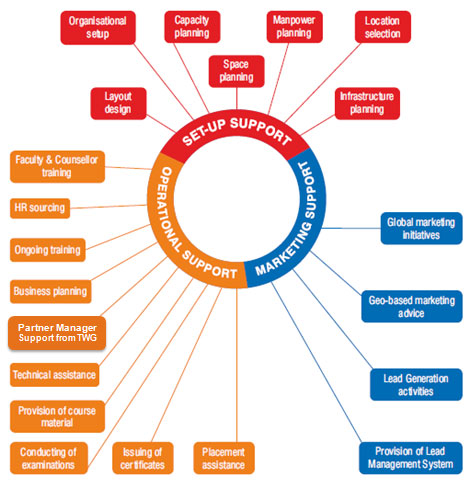 Terms of Association
Each centre will follow similar appearances, procedures and practices as per TWG standards
Partner will follow the TWG manual of operation in letter and spirit. There shall be no deviation
There shall be no deviation from the methodology provided by TWG
No courseware will be sold outside the Institute except with the express sanction of TWG
All advertisements released by the centre will have prior formal approval of TWG
Secrecy in the nature of products and business matters will have to be totally
Maintained by the Centre Director
All business transactions need to be accounted for
The eligibility to avail TWG Opportunity
Prospective entrepreneurs, with a good business acumen and zeal to succeed can actively consider the proposal of becoming an TWG franchisee and join a select brand of technocrats who can create the domain experts of tomorrow and also look forward to good returns
All it takes is:
Business acumen
Sound finance
Entrepreneurial drive
Ability to invest effort and involvement
Honesty and integrity to the cause of business growth
Commercials involved
Set up costs
License fee and other affiliation fees as necessary
Extra payment for new products as and when they are launched
Royalty on course fees per student